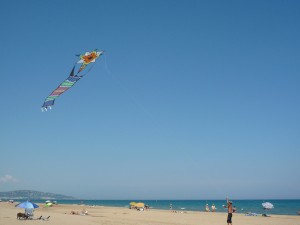 The Port Rive Gauche area has stunning beaches, restaurants, history, art, countryside and much more for you to enjoy.
Marseillan Plage, with its recently renovated palm-lined boulevard is the place for beach lovers, with miles of sandy beach and blue sea good for swimming. Just 6Km away from Marseillan there is a cycle route that runs alongside the Etang de Thau to the beach. Cycles are available for hire opposite the apartment in season and all year in Marseillan port boatyard.
Pezenas, one of the most beautiful medieval towns in the south of France, is less than 30 minutes away. Well known as a home of arts and crafts, its centre is a maze of tiny streets which are a delight to wander, discovering the beautiful 16th century stone houses with magnificent façades, staircases and balconies as a well as many artisan shops and tiny restaurants. The large Saturday market is always a bustling hive of activity which brims with local produce.
Sete, the 'Venice of Languedoc' whose twinkling lights on Mont St Clair are visible from the Salicorne apartment at night, is a large lively fishing port with excellent shopping, markets, galleries and museums, and a traditional quayside fish auction every evening.
Saint Guilhem-le-Desert, a UNESCO World Heritage site and designated one of the most beautiful villages of France, is less than an hour's drive away. This ancient village is surrounded by the wild and rugged countryside of the Herault Gorges. One of the highlights is the 12th century abbey church, sitting serenely below the towering rocks. 3 km away is the Grotte de Clamouse, one of the most stunning caves in the world where guided tours take you along walkways surrounded by limestone crystal structures of every type imaginable, culminating in the magnificent cathedral room with a dramatic sound and light show.